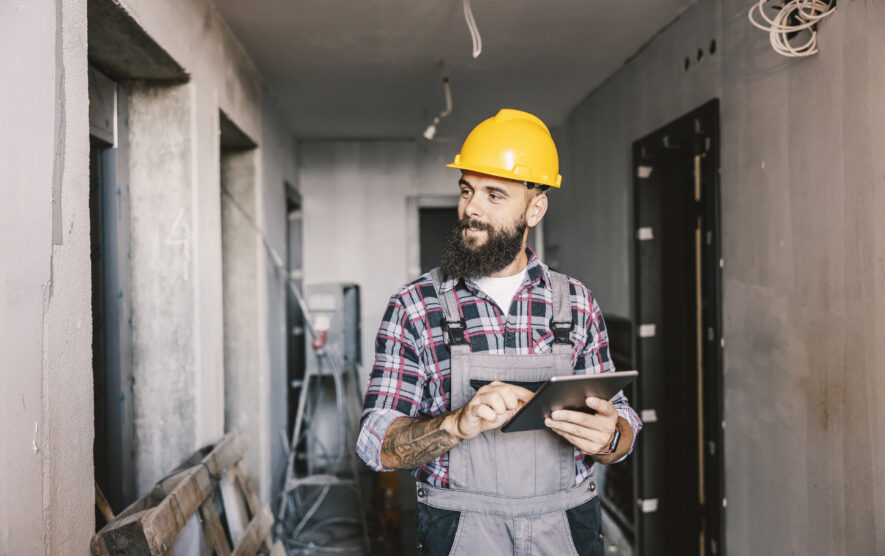 By Nils Klute, IT Editor and Project Manager Communication Cloud Services at EuroCloud Germany
Digitally connected offices and construction sites to speed up processes, save costs and exploit entrepreneurial opportunities: What is the state of Germany's skilled crafts sector and digitalisation? What the skilled crafts can learn from industrial services. And what email, cloud computing and electric windows have in common.
Stained, discoloured and getting on in years – let's say the wallpaper and walls in your own home need a fresh coat of paint. You quickly send an email to the local painters. The company promptly calls to make an appointment. The very next day, an employee comes by to discuss your wishes and take measurements. All necessary data is sent directly to the office via a tablet and a mobile phone connection. Thanks to recorded master data and electronic processes, the offer reaches your own email inbox almost fully automatically. Advantages of digitalisation such as these are what the Adam Oswald painting company has been using to score points with its customers – since 2015.
Industry gives away productivity potential
The company from Geisenheim in Hesse was a pilot operation in a project funded by the German Federal Ministry for Economic Affairs and Climate Action (BMWK) in the mid-2010s. Just as the speedboat projects at Service-Meister today explore opportunities for digital tools in industrial service, Oswald found out about the possibilities for craft businesses at eMasterCraft back then. Whether for service employees with artificial intelligence (AI) or for skilled crafts with electronic business processes – it is clear then as now that not only the local construction and expansion industry works more productively when it optimises processes digitally. This was shown in a 2014 study by the University of Dortmund.
Spiegel Online: "Companies have missed out on digitalisation"
Connecting offices and construction sites electronically to speed up processes, save costs and exploit entrepreneurial opportunities – what digitalisation already made possible years ago in the Hessian painting company should by now have become common knowledge in the skilled crafts throughout Germany. And perhaps that is precisely because carpenters, electricians, plumbers, interior designers, drywallers, roofers, floor layers and the like are in greater demand these days than ever before. A fallacy, as a recent German-language study by digital agency dotSource and ECC Cologne, a subsidiary of the Institute for Retail Research, shows.
When asked about the major challenges, digitalisation was placed last by the 350 skilled crafts who took part. This suggests that businesses prefer to waste time with analogue paper lists and appointments on wall calendars. And as a result: "Anyone currently looking for skilled crafts needs to be patient," writes Jörg Breithut in the German-language article on spiegel.de. "Waiting times of several months are completely normal". Waiting times that are not only caused by a lack of skilled workers and full order books, but also because companies rely on pens and paper instead of apps and software. "Apparently, many companies in Germany have missed out on digitalisation," Breithut comments.
Digitalisation Index in Germany: Standstill as progress
Germany's skilled crafts are digital muffleheads – there is no doubt about it according to a study by the German Economic Institute (IW), Companies with up to 49 employees bring up the rear in the current edition of the annual German Digitalisation Index. Compared to companies of other sizes, small businesses are below average in terms of digitalisation. Where the reasons generally lie: "Overall, the digitalisation momentum of the Covid-19 pandemic has not yet led to a comprehensive and sustainable digitalisation push in the German economy," write Barbara Engels and Jan Büchel in their contribution to the study on the IW website. "However, due to the confluence of various crises and remaining in the – even exacerbated – exceptional situation, it cannot be ruled out that such a push will still be triggered." At least it is remarkable that the companies have not taken steps backwards in digitalisation in the face of the global challenges. In times of the pandemic virus, Ukraine war and energy crisis, standstill must be seen as progress.
Emails, messenger and cloud: Trend Reversal in Sight
A lot of paper, little speed – but the German Confederation of Skilled Crafts (ZDH) disagrees. Whether it's emails, messengers or social media, according to a recent study by the German Confederation of Skilled Crafts and Small Businesses ( ZDH) and the digital association Bitkom, two thirds of skilled crafts companies use digital technologies and applications. Cloud computing, for example: 45 per cent rely on resources from the cloud. But, conversely, 55 per cent do not. For the Central Association, however, the turnaround seems to be in sight: "In general, the vast majority of craft enterprises are open to digitalisation," states the article on zdh.de.
Skilled craft needs open-mindedness: Once digitalised, never going back
Master painter Oswald is open-minded – and already in 2019 in the article in Deutsche Handwerks Zeitung Newspaper: "For example, when a customer calls the company, a call form opens directly on the computer where notes of the conversation can be noted," says Oswald. "The entire project execution is recorded, categorised and provided with status messages by the software. Until the order is completed, the employees receive information from the system about what still needs to be done, which permits need to be obtained and which material needs to be ordered". Asked whether he would be willing to do without such an application, the craftsman can only think of one answer. It is like electric windows: "Once I get used to it, I don't want to go back to cranking windows open like I used to."
Image credit: iStock-1369943962
---
Did you like this article? Then subscribe to our newsletter and receive regular updates on similar topics and the Service-Meister project, and discuss this and similar exciting topics with us in our LinkedIn group.