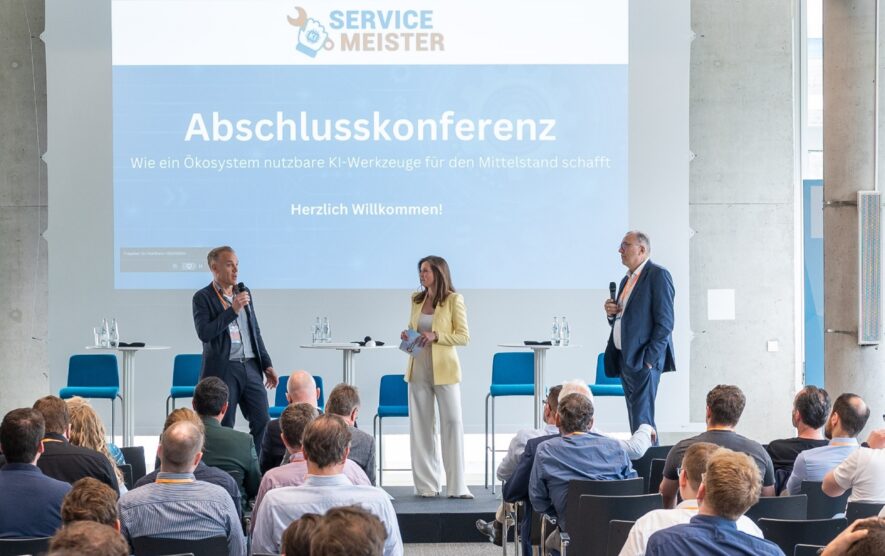 By Nils Klute, IT Editor and Project Manager Communication Cloud Services at EuroCloud Deutschland
Artificial intelligence (AI) is redefining not only value creation in industrial services, but the very fabric of society. At the final conference of the Service-Meister project, SMEs, IT service providers, politicians and academics discussed the results of the AI project and their application.
Bread rolls with poppy seeds, sesame or whole grains – with poppy seeds, sesame or grain – Bavarian bakeries are showing the way when it comes to using artificial intelligence effectively. Using a smartphone and an app, they analyse the returns from the branches. "Instead of counting manually, an AI bread roll detector automatically determines how the different types have sold," said Robert Falkenstein, project manager for the Bayreuth location of the SME Digital Center Handicraft at the HWK Upper Franconia. Data that the bakery can then use to adapt its supply to demand. Service providers are also using AI and data to tailor their services ever more precisely to demand: "In the future, we will be able to create texts, images and campaigns in batch size 1," said Dr Iris Heilmann, Managing Owner at the communications agency Palmer Hargreaves. The same goes for Industrial Service: "AI helps us to maintain our laser cutting systems remotely and keep them operational," said Korbinian Weiß, Manager Machine Vision at TRUMPF. Examples that show the role technology can play. And examples that underscore how smart tools, services and applications change processes not only in maintenance and repair – but everywhere and across the board.
Consortium solves maintenance and repair challenges with AI
From the skilled crafts to the service sector to industrial service – at the final conference of the AI project Service-Meister, everything revolved around the opportunities of the technology for two days. Opportunities that not only TRUMPF, but also KROHNE, WÜRTH, Open Grid Europe, KEB and esw GROUP have been working on for the past three years. Together with IT partners USU Software, grandcentrix and inovex, the companies working together in the so-called speedboat projects to solve maintenance and repair challenges with AI.
Ai with Service-Meister: Economically viable applications give rise to new products
Data silos, analogue machinery and proprietary software: "The reality of the SME sector also caught up with us in the project," said Hauke Timmermann. "It was important for us not to develop under laboratory conditions," said Christine Neubauer. Neubauer and Timmermann organised the consortium at the eco Association over the past three years. And both had accompanied the work from the start of the project in early 2020. The goal: an open service ecosystem that digitises master knowledge, thus empowering even less trained skilled workers for complex tasks and making German SMEs more successful and competitive with the help of AI. Because: "The decisive factor is always the application," said Axel Voß, Head of Division for the Development of Digital Technologies at the German Federal Ministry of Economics and Climate Action (BMWK), "at the end of the day, we need applications that are economically viable in order to create new products."
AI in Industrial Service: Recognising added value in Euros and cents
Whether digital advisors, chatbots or augmented reality apps – it is with applications such as these are what Service-Meister wants to use to advance industrial service and Germany as an AI location. "Only 10 per cent of small and medium-sized enterprises (SMEs) in this country use AI," said Martin Lundborg, head of the accompanying research project Mittelstand-Digital at the Scientific Institute for Infrastructure and Communication Services. It is true that Germany is above the European average. However: "Companies are often not yet aware of what AI can bring in terms of euros and cents," said Lundborg.
AI from Germany: Shaping digitalisation and not just participating
Speed up response times, improve service quality and maintain equipment availability: "The need for AI is emerging on German shop floors," said Kristina Peneva, Senior Consultant at VDI/VDE Innovation + Technik, "if you don't invest in the topic in the next five to ten years, you run the risk of reality catching up with you." What matters: "We have to shape digitalisation from within Germany and not just participate in it," said Andreas Weiss, Managing Director of the eco Association. Another piece of the puzzle: "Open source and standards are the basic ingredients," said Weiss. "And this is what will enable data-based business models to emerge in industrial services," said Alexandra Horn, Head of SME and Association Cooperation at the German Institute for Standardisation. After all, standards create trust and initiatives like Gaia-X are creating the sovereign data infrastructure for the digital economy.
AI in SMEs: Having the courage to take small steps
Machine parameters, sensor values or repair reports: "In industrial services, too, the cloud is, to a certain extent, the recycling container for data," said Thomas Niessen, Managing Director of the Trusted Cloud competence network. The same applies to the recycling economy and the data economy: "Things only get going when everyone understands how they can benefit," said Dr Dominik Rohrmus, CTO at the Labs Network Industrie 4.0.
What the data-based service economy needs to suceed in SMEs: "Less academic discussions," said Christian Pereira, COO at grandcentrix. "More tangible practical relevance," said Dr Robert Pesch, Head of Data-Driven Solutions at inovex. "The right mindset," said Prof. Günter Huhle, founder and owner of Corevas. And: "The courage to take small steps," said Dr Nicole Wittenbrink, Consultant at VDI/VDE Innovation + Technik, "those who go straight for the overall design with visionary power are more likely to fail." Last but not least, data needs a home: "Infrastructure providers and data centres in Germany are ready for this," said Alexander Rabe, Managing Director of the eco Association.
AI and society: More play, less concern
How ready is society is for AI? "The German population's for AI varies," said Dr Christina Schmidt-Holtmann, head of the Data Availability, Digital Sovereignty and SPRIND unit at the German Federal Ministry for Economic Affairs and Climate Action (BMWK), "depending on age, gender or level of education. "Yet AI affects every individual and every workplace," said Heilmann. A big part of the solution: "A critical optimism," said Heilmann, "and more playfulness." Because: "In this country, we live too often by cultivating fears," said Barbara Engels, Senior Economist at the German Economic Institute (IW). Rabe: "We need more recommendations and fewer prohibitions."
AI in SMEs and mid-sized companies: Service-Meister shares results online
What Service-Meister now recommends to SMEs: "Getting started with technology through our website," Neubauer said. "Interested parties can find all the information they need online, and can determine their own position in the assessment and learn about the possibilities in the respective service processes." What helps even more: "Educating yourself," said Timmermann, "Service-Meister provides the results in various freely available learning formats." Whether in the German-language e-learning course on the AI Campus or in the train-the-trainer programme (also in German)- the basis of the AI training courses is an open-source curriculum that Service-Meister offers free of charge. "Together with our more than 70 associated partners and chambers of industry, commerce and handicrafts, we now want to take the results into the field," said Neubauer.
Future with AI: Competence network to continue the work of Service-Meister
"Agile ecosystems like Service-Meister are doing today what large industrial conglomerates did yesterday," Lundborg said. "In the process, Service-Meister has become a real brand name in the last three years," said Timmermann. The consortium would like to build on this, for example by continuing the work as a competence network. So, yes: "Admittedly, AI only solves the problem of skilled workers at the company level, not at the level of society as a whole," says Engels. "And AI is not a panacea, but always just a tool that enables new products and services," said Dr Jürgen Grotepass, Chief Strategy Officer Manufacturing, European Standardisation & Industry Development at Huawei. But one thing is certain: "Those who only work with AI when they consider their solutions to be mature have already missed the boat," said Weiss. The right attitude for progress: "Start-up culture in action," said journalist Alexa von Busse, who moderated the event: "A large industrial consortium can obviously solve its challenges in the same agile way as small companies."
Impressions of Service-Meister's Final Conference
Service-Meister was the winner of the German federal government's AI innovation competition at the end of 2019. The final conference took place on 22 and 23 May 2023 at the Digital Technologies Forum in Berlin.
---
Did you like this article? Then subscribe to our newsletter and receive regular updates on similar topics and the Service-Meister project, and discuss this and similar exciting topics with us in our LinkedIn group.