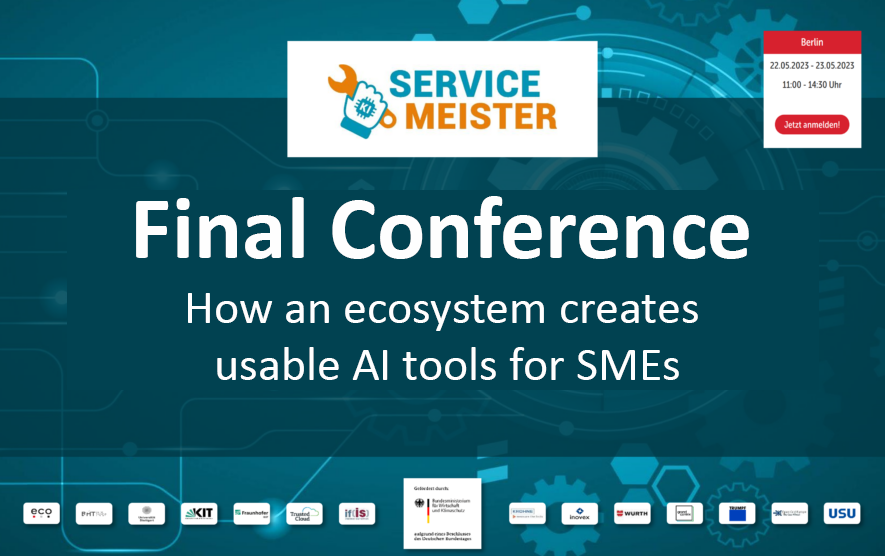 By Nils Klute, IT Editor and Project Manager Communication Cloud Services at EuroCloud Deutschland
Sharing data, not only to keep machines and plants available, but also to realise new business models – at the final conference of Service-Meister on 22 and 23 May in Berlin, everything will revolve around the question of how artificial intelligence is redefining value creation in industrial service and SMEs.
From bolts to pinions to catch hooks for locking systems – the esw GROUP develops and produces metal-plastic products for the automotive, commercial vehicle and construction industries. To shorten downtimes and keep machines ready for use, the medium-sized company is developing an intelligent service ticket system. Artificial intelligence (AI) should, for example, make it possible to determine errors more precisely and categorise them automatically. Maintenance and repair challenges like these are what not only esw GROUP but also the industrial companies KROHNE, WÜRTH, TRUMPF, Open Grid Europe and KEB have been working on at Service-Meister. Together with IT partners USU Software, grandcentrix and inovex, the companies have joined in so-called speedboat project tandems, the results of which are now the focus of the final Service-Meister conference
AI in SMEs: Results on 22 and 23 May in Berlin
Digital advisors, chatbots, augmented reality applications and apps are designed to help technicians in their work and make digitalised master knowledge scalable: "Our speedboat projects have successfully brought AI into industrial service," says Christine Neubauer. "On 22 and 23 May, we will present the results for SMEs in Berlin," notes Hauke Timmermann. Neubauer and Timmermann had organised the consortium at the eco Association for the past three years. And both had accompanied the developments from the start of the project in early 2020. "esw GROUP was first an associated partner," explains Neubauer, "then the company itself got actively involved in the work in 2022."
Applying AI, transferring knowledge and closing skills gaps
Over the past three years, the research project has been working on "on an open ecosystem for industrial service in the age of Industry 4.0", according to Timmermann. An ecosystem, not only to make digitalised master knowledge available to technicians, but also "to close gaps in skilled workers and to make SMEs more competitive with AI," adds Neubauer. On the one hand, the results of Service-Meister aim to increase the use of AI in SMEs. For example, companies plan their AI entry via an online assessment from Service-Meister. And on the other hand, further training courses provide the necessary knowledge. "In order to share our successes across the board, we have established a large network," explains Timmermann. "More than 70 associated partners also support Service-Meister," according to Neubauer.
Service Master and Gaia-X: "A lot of things are converging
"AI often remains a proof of concept in SMEs," states Andreas Weiss, who launched the AI project as head of the Digital Business Models division at the eco Association What could be the reason for that? Weiss comments, "Because of data silos, lack of standards and knowledge". Initiatives like Gaia-X are just getting the necessary technology off the ground. And with the Gaia-X-Federation Services project, the Internet Association itself is contributing to the solution. Service-Meister and Gaia-X: Neubauer believes "a lot of things converge there". Similarly, Weiss points out that "the connected and distributed data infrastructure is not only suitable for digital business models in the service domain". "Wherever companies want to create value based on data, they need open architectures, standards and blueprints, such as those Service-Meister will now present at the final conference," says Neubauer.
Register by 18 May and participate free of charge
The final conference of Service-Meister will take place on 22 and 23 May at the (German-language) Forum Digital Technologies , Salzufer 15/16, Berlin-Charlottenburg. On both days, experts from the consortium will not only present the results, but also discuss the technological perspectives with speakers from industry, academics and society. Attendance at the event is free of charge after prior registration. The number of guests is limited to 100 visitors. Participation will be decided on a first-come, first-served basis with a registration deadline of 18 May 2023. All further information on the agenda, the speakers and networking opportunities can be found on the (German-language) event website.
---
Did you like this article? Then subscribe to our newsletter and receive regular updates on related topics and the Service-Meister project and discuss this and similar exciting topics with us in our LinkedIn group.