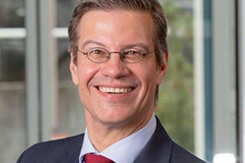 Interview with PD Dr. Fred Jopp by René Bernard, Editor at eco – Association of the Internet Industry V.
Skilled workers are rare. SMEs should consistently rely on digitalization and artificial intelligence to be able to perform maintenance reliably tasks in the future, says Dr. Fred Jopp, Head of Industrial Project Management at USU Software AG, which is an eco member. Dr. Jopp's position means that he is closely involved with the corporate problems involved in implementing use cases.
Dr. Jopp, why are skilled workers so hard to find?
Companies are under increasing competitive pressure to find suitable employees. This is a trend that has increased very significantly, especially among skilled workers. Particularly for small and medium-sized companies, the struggle for skilled workers is a huge problem. Here in Baden-Württemberg, the situation has taken on dramatic proportions: in joint talks with the eco Association and the local Chambers of Trade, we were once again made aware of the problems arising from the small-scale corporate structure within the state. We have more than 470,000 companies, of which more than 90 percent work in small and micro enterprises with 1–9 employees. It is this group of companies that is most severely affected by the shortage of skilled workers due to its employee structure. This is where the real bottlenecks lie in terms of skilled workers.
How can this problem be solved?
For SMEs, we need solutions that also take alternative routes. The Service-Meister research project is therefore developing AI-based tools with which it will also be possible to digitally relax this tense situation for skilled workers in future.
What does that look like exactly?
Firstly, we are working out the basics together with strong use-case partners from the state such as TRUMPF GmbH & Co. KG from the machine tool sector and Atlas Copco IAS GmbH, who produce adhesive technologies, self-pierce rivet and flow drill systems that are used in the automotive industry. An important aim of the project is to create and provide a service ecosystem, which we will make available to everyone throughout Germany from 2022. This will be of particular benefit to SMEs that are not able to set up a digitalization department for services on their own.
Dr. Jopp, thank you very much for the interview!
Dr. Fred Jopp is Head of Industrial Project Management, USU–Katana Big Data Analytics
You liked this article? Then subscribe to our newsletter and receive regular updates on similar topics and the Project Service-Meister and discuss with us about this and similar exciting topics in our LinkedIn Group.