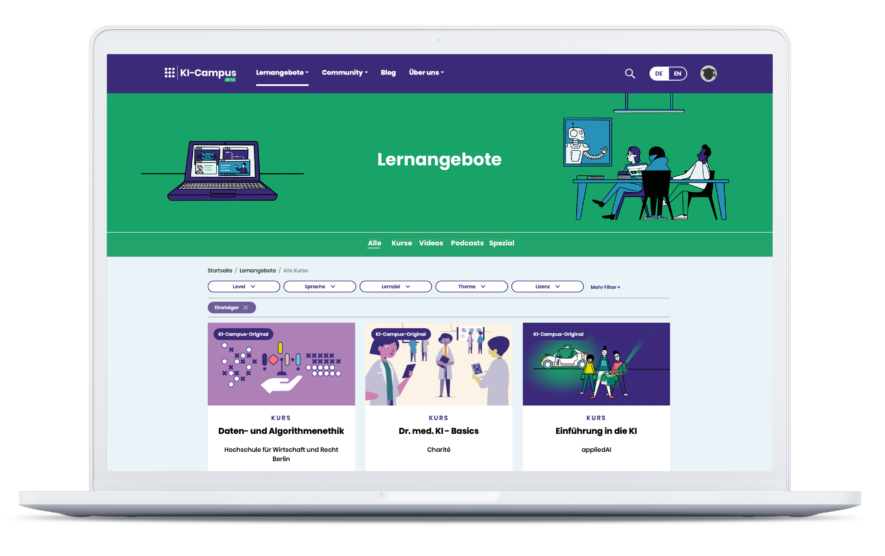 The AI Campus learning platform(www.ki-campus.org) has set itself the task of explaining the technical principles behind AI tools in a comprehensible way and strengthening AI skills in society. For this purpose, the AI Campus develops free online courses, videos and podcasts for beginners and advanced learners in English and in German.
The eco Association is also represented at the AI Campus with its own (German-language) course on the Service-Meister project: "AI in technical service" introduces AI applications based on six typical activities in the service process. There is no fixed start and end date, so participants can start at any time and go through the content at their own pace.
Regardless of whether you are an entrepreneur or a service technician – the practical course is aimed at all participants. Especially for SMEs, "AI in technical service" is a helpful offer: Those responsible learn to assess to what extent the use of AI is generally worthwhile for them and in which areas their existing toolbox can be usefully supplemented with AI.
For a broader engagement with AI in a business context, the AI Campus topic page "AI and Entrepreneurship" is recommended. Here, interested parties can delve deeper in many other online courses and learn how to successfully integrate artificial intelligence and algorithmic decisions into their own business.
"AI skills are becoming increasingly important, especially in SMEs," says Florian Rampelt, office manager of the AI Campus at the Stifterverband foundation. "The online course shows application scenarios, removes fears of contact and creates inspiration for the implementation of AI in one's own company. We are really happy with the lively cooperation with Service-Meister and the eco Association". "Through the AI Campus, we are now bringing the AI knowledge from our project into practice," says Hauke Timmermann, Project Manager and Digital Business Models Officer at the eco Association.
About the AI Campus
The AI Campus is the learning platform for artificial intelligence with free online courses, videos and podcasts to strengthen AI and data skills. As a research and development project, the AI Campus is funded by the German Federal Ministry of Education and Research (BMBF). The Stifterverband, the German Research Centre for Artificial Intelligence (DFKI), the Hasso Plattner Institute (HPI), NEOCOSMO and the mmb Institute have been developing the AI Campus together with numerous partners since 2019.

Image credits: KI-Campus
---
You liked this article? Then subscribe to our newsletter and receive regular updates on similar topics and the Project Service-Meister and discuss with us about this and similar exciting topics in our LinkedIn Group.